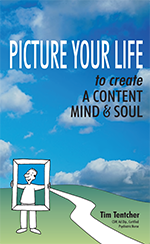 Mental Health Support Solutions For You & Your Family.
I have helped 100's of people giving effective Mental Health Support and I would love to help you. Many of us struggle to cope with life adjustments, anxieties, and personal challenges. Sometimes treatment from psychologists or psychiatrists is not an option. Regardless of what life brings you, if you want a positive and proactive way to handle stress or if you need help living your best life, I can help. I'm the author of Picture Your Life, which guides the people I work with to use the methods I teach on their own.
Sessions are covered by most insurance packages.
Sliding Fees starting at $20 if you do not have $20 the first session is FREE
I offer short and long term support …
To help you develop strategies to help with your special needs.
For mental health issues that are not covered by OHIP or benefit plans.
For clients who struggle with addictions.
If you experience depression or panic but would like to be less dependent on medications.
Are you looking for …
An improved quality of life?
More contentment, less anxiety, a better mood?
I help clients with life planning, life coaching, relationship issues and anxiety. I help them develop and implement practical strategies to manage the NOW. I also provide Mental Health Support using a blend of Cognitive Therapy, Positive Psychology and Life Planning that can help you and your family deal effectively with mental health concerns. My approach is effective and supported by research. In my work with clients, as well as in my personal and family life, I see results.
The methods I use are also focused on Dr. Amen's research on brain health. Dr. Amen has been hired by the NFL to deal with the issue of concussions and depression as a result of them. Click here to see how we can help you with issues like ADD, Anxiety, Depression, Dementia, Brain Injury, and addictions.
My experience as a psychiatric nurse allows me to help families advocate for loved ones. I am familiar with various medications and their affects, limitations and side effects and I understand the system so I am able to help clients find the best course of action. My goal is to empower my clients and their families so they are better prepared to communicate with medical professionals and to advocate on behalf of themselves or their loved ones.
Many of my clients require support for chronic mental health conditions which may not be covered under our current health care system. And I understand that for many individuals, quality mental health support is out of reach, financially, which is why I use a sliding fee scale, based on income.
A new project we are launching is called Shared Caring
Click here to see how we are empowering others through caring!
Contact me for more information or to book a Consultation