Setting Goals So You Wont Give Up!
In my book Picture Your Life we discuss in detail how setting goals needs to be done in a way that we feel good about ourselves even if we do not always hit the bulls eye.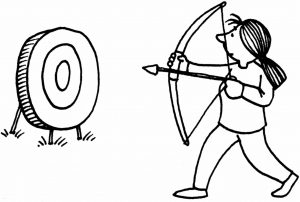 Do you think Tiger Woods spent time setting goals? I'm sure he did. If you think about it his goal is to get the ball in the hole Until Tiger Woods hits his next hole-in-one, he's still behind an 83-year-old from Cloquet, Minn. The game's best player has 18 aces, but retiree Herb Galliart has 19. Golf Digest puts the odds for an average golfer knocking it home in one stroke at 12,000 to 1.
Yet allot of the time when we are setting goals we expect to get a hole in one more than we should. So let's look at a way to set a goal that is more realistic.
I call it BOW goal setting. In my book I also talk about FRAMES planning. Here is an example of how to set goals using the FRAMES plan.
We at times Barley hit the target when we set a goal, other times we are on target, and once in a while we get a Wow I hit the hit the bull's eye. This is BOW goal setting. Giving your self credit for at least trying!
From my book Picture Your Life
Putting BOW Goals together with the FRAMES tools
Barely hitting the target, On target, Wowza! BULL'S-EYE
Set a Goal for each of the 3 areas. Each one is a success and will attract you to the Wowza. Set the goal as if it is achieved.
Fun… (See your FRAME work plan for your goal ideas) Goal Going on a trip
B…I have looked at trips online
O…I have saved ¾ of the money for the trip and researched what I want to see
W…I am in Italy
Relationships… Meeting someone new
B…I am talking to people more in my volunteer group
O…I had lunch with the new person in my group
W…My new friend and I are biking weekly
Appearance/health… Loosing weight
B…I weigh myself monthly and exercising weekly
O…I weigh myself weekly and exercise twice a week
W…I have maintained my weight for a year and I have exercised 3 times a week for at least 80% of the weeks this year
Mess… Putting off talking to my sister
B…I called my sister to try to resolve things
O…We met and had a fight
W…My sister and I have reconciled and are seeing each other during holidays
Economics… A new job
B … I have updated my résumé
O … I have had 3 job interviews
W … I have received my first large pay check from my new job
Sunshine to yourself and others… Doing a run for cancer
B … I have new running shoes!
O … I run 3 times a week.
W … I am at the finish line and my husband is hugging me.
See how you can hit the target more often and you are not discounting what you have done.