A Mental Health Helpline With Proven Results
I am so glad you have found my Mental Health Helpline. Calls will be returned as soon as possible. 519-993-4609 is my number. My name is Tim Tentcher and I have been running a Mental Health Helpline for over 25 years.
I help people with the methods from my book Picture Your Life. It is not a self help book it is a manual for contentment!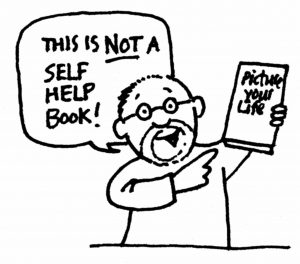 I have found support needs to be focused and understanding. People need to be heard and come away with an action plan that will help them feel better. My approach is solution focused and connects to a method that works!
We need to know if our feelings are getting in the way of our thoughts. Cognitive therapy is the answer for this. Cognitive behaviour therapy (CBT) combines two very effective kinds of psychotherapy cognitive therapy and behaviour therapy to help with this.
Behaviour therapy helps you weaken the connections between troublesome situations and your reactions to them such as fear, depression or rage. It also teaches you how to calm your mind and body.
Cognitive therapy teaches you how certain thinking patterns are causing your symptoms  by giving you a distorted picture of what's going on in your life, and making you feel anxious, depressed or angry for no good reason.
When combined into CBT, behaviour therapy and cognitive therapy provide you with very powerful tools for stopping your symptoms.
My Mental Health Helpline has helped 100s of people 519-993-4609 click here for more info.
We need to face the shadows to find the light. This takes courage that I know you have. People who have a mental health concern are some of the bravest people I have ever met call me I would love to help.
My sessions are covered by insurance and there is NO WAIT LIST!